Corporate Information
Corporate Profile
China Internet Investment Finance Holdings Ltd (the "Company") is an investment company listed on the Main Board of the Hong Kong Stock Exchange under the Chapter 21 of the Listing Rules.
We focus on investing in listed shares, bonds and private equity.
Our Beliefs
Investment Objectives and Policies
The primary objective is to achieve capital appreciation and generate income from interest and dividends.
Strategic Plan
We implement a diversified investment strategy and identify suitable investment opportunities with potential asset appreciation and/or suitable returns for the Group and share holders of the company. Moreover, we maintain a prudent but proactive investment approach and closely monitor the performance of our investment portfolio. Upon the regular review and evaluation, appropriate and timely actions will be taken.
Future Development
The Group will continue to study start-up companies, particularly in the internet finance sector and pre-IPO investment opportunities because both of these can offer higher internal rate of return. The Group will also enhance its capital base and cash reserve by fund-raising through the capital market, when appropriate.
Milestones
October 2019

In 2019 our CEO Dr. Jim Yeung and CFO Mr. Dick Leung attended the listing ceremony of China Oriented, our pre-IPO investment successfully listed on the Main Board.

2018

Invested in a service provider of driving training in China and a celebration dinner with its shareholder Mr. Qi Xiangzhong.

2015

The board of directors attends the Annual General Meeting.

November 2015

Change of Company Name to China Internet Investment Finance Holdings Limited

September 2014

Dr. Lam Man Chan chaired the Company's meeting.

Middle 2014

New management introduced to the Company.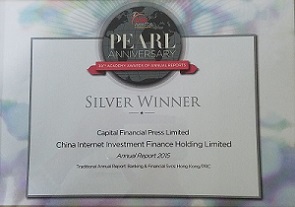 30th ARC Awards
Silver
(Traditional Annual Report Banking & Financial Service: Hong Kong/PRC)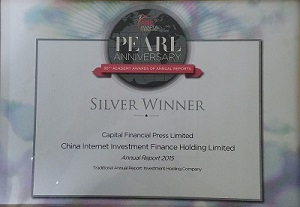 30th ARC Awards
Silver
(Traditional Annual Report: Investment Holding Company)